Whale Boy Diaper Cake Centerpiece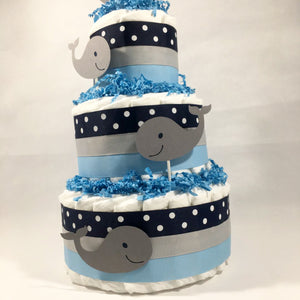 Whale themed diaper cake centerpiece for a boy baby shower. 
The default color scheme is navy blue, light blue, and gray.
Whale diaper cake includes 50 size 1 diapers with a whale topper. There are also 2 smaller whale toppers and a whale cutout attached to the diaper cake.
The base diameter is about 9" and the height is about 16" with the topper.
Get the matching items:
Whale 1-tier Diaper Caker Centerpiece Set